Tanaïl translates as 'God-given'. As we know, God works in mysterious ways: it was formerly good-for-nothing swampland, granted by the Turks to the Jesuits before the First World War, in part as compensation for the massacre of 5 of their priests in the nearby town of Zahle. With the onset of war, trade routes were blocked by the Turks to prevent food and resources reaching allied forces, and with most of the Beqaa crops diverted to feed the Ottoman armies, famine began to take hold across the region. From March to October 1915, a swarm of locusts stripped the Beqaa and surrounding regions of virtually all vegetation, with inevitable consequences. Of a population of 400,000 spread across Mount Lebanon, 200,000 perished.
Out of desperation, the Jesuit monks, with the help of the orphans they sheltered, dug canals to turn swampland into farmland. Once sufficient crops were established, efforts turned to vine growing, in part to provide wine to celebrate the Eucharist. The Jesuits were instrumental in reintroducing vines and wine production to the Beqaa, and it was fruit from their plantings of Cinsault and Grenache from vineyards surrounding their 'Taanayel' convent that the Ghosn brothers were able to purchase for their inaugural vintage.
In 1998, at Ramzi's suggestion, they decided to plant Tanaïl's 6 hectares of land with their own grapes, spreading their bets with a mix of noble varieties; Syrah, Cabernet Sauvignon and Tempranillo. Further investment transformed the outbuildings into suitable structures to house stainless steel vats and create room for barrel ageing. Blessed with vision and ambition, what the brothers lacked was expertise. This was soon to arrive in abundance.
Having heard tales of their winery plans on the grapevine, Sami was being hounded by a particularly determined cork salesman, who proudly reeled off his client list from back in his native France. The list included some of the most illustrious Chateaux of Bordeaux and beyond, none of which meant anything to twenty-something Lebanese brothers with little experience of fine wine consumption. In an attempt to shake him off, Sami said he would gladly buy his corks if he could find French partners willing to invest in Massaya.
With the civil war still fresh in the memory and with regular news reports of car- bombing and hostage-taking, they weren't too optimistic about the prospect of foreign investors backing the fantasy of two young brothers with no relevant experience. But Sami agreed to travel to Bordeaux to meet a number of potential partners that had expressed interest. Dominique Hebrard, whose family has presided over the famed Chateau Cheval Blanc since 1832, was one such suitor, and after a number of initial introductions, the one Sami was most drawn to. Dominique had inherited the physical stature and indomitable personality of his father, Jacques, best known for a memorable episode that has gone down in Bordeaux folklore, involving the world's most powerful wine critic, Robert Parker Jr. Incensed at a particularly damaging score handed out to barrel samples of his 1981 vintage, Jacques Hebrard insisted he revisited to reassess the wine. Mr Parker duly returned and was greeted by the Hebrard's miniature Schnauzer with a savagery equal to his earlier review. Jacques wasted some time in calling the dog off, and calmly handed Mr Parker the offending pages from the Wine Advocate to dress his wound. Apparently, Robert Parker still has the scars but, to his credit, was man enough to realise his earlier score did indeed deserve to be upgraded.
Sami continued to warm to the charismatic Dominique, and sensed he was a good, generous man, true to his word. Dominique was equally struck by Sami's charm and intensity, admitting that he regarded his involvement as more than just an investment opportunity. The prospect of making wine from grapes planted in the shadow of the Temple of Bacchus, whose ruins still stood tall and proud in Baalbeck, was a genuine thrill. Of all the regions the Romans colonised and thought suitable for vinegrowing (including Bordeaux), the Beqaa valley was the most prized, and the chosen site for the one temple in the empire dedicated to the God of grapes and wine. As such, the region is regarded as the cradle of civilised wine production, with a romantic appeal even to those who've reached the modern-day apogee of the wine world (Chateau Cheval Blanc remains in the Top 10 of the most searched-for fine wines in the world).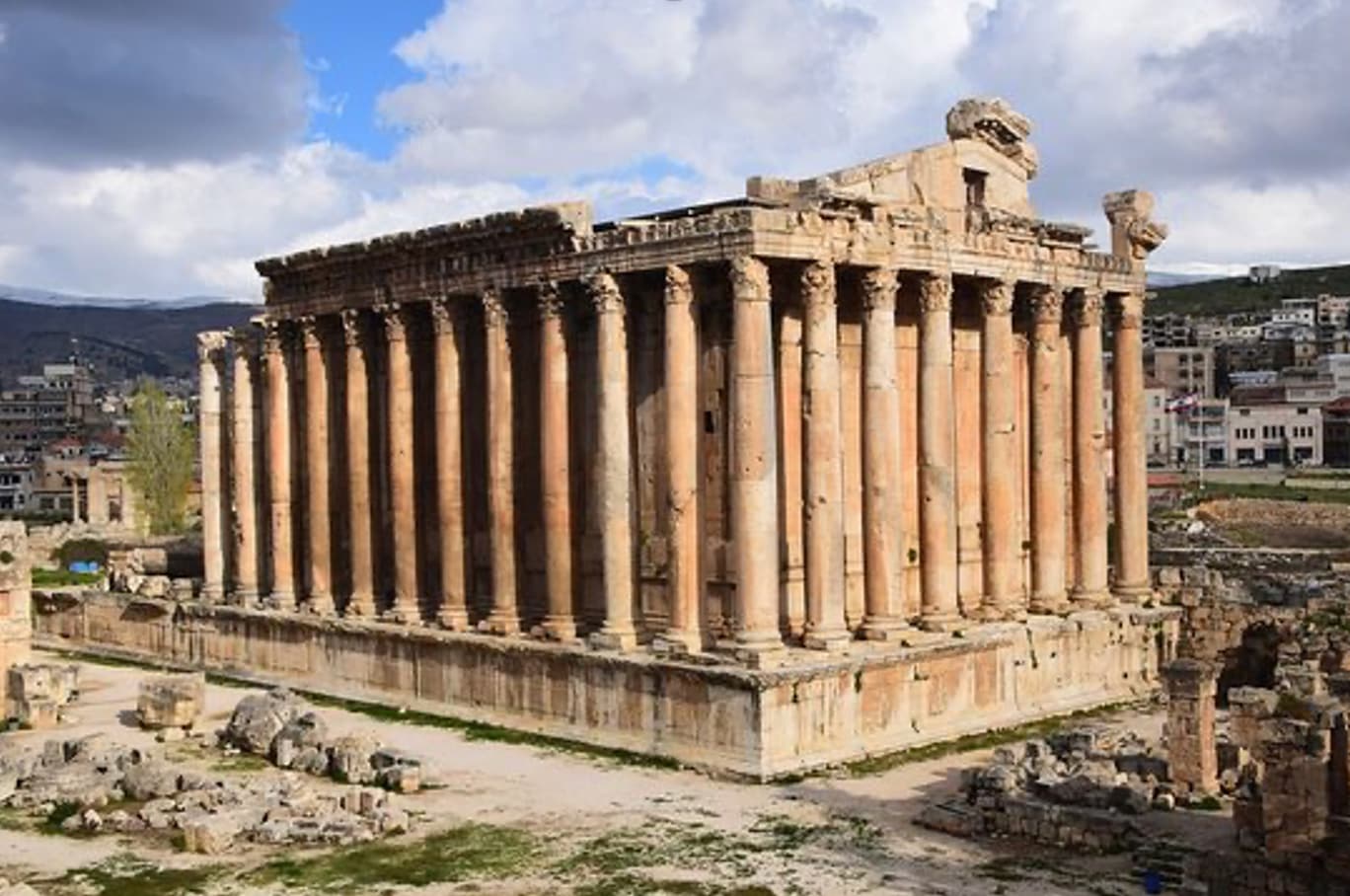 The extraordinary Temple of Bacchus at Baalbeck.
A number of other interested parties awaited in Chateauneuf-du-Pape. Sami duly headed East, clutching a blue bottle of Massaya Arak as his c.v., with Dominique Hebrard's early commitment serving as an impressive reference. Meetings were arranged with a short-list of 5 domains, with Sami choosing to head first to the highly regarded Domaine du Vieux Télégraphe. Established in 1891 by Henri Brunier, its reputation had grown steadily and now, thanks in large part to the efforts and intelligence of 5th generation brothers, Frédéric and Daniel, ranks amongst the most vaunted estates in the appellation.
The Bruniers were particularly noted for their skill in the vineyard, in nurturing the soil and training the vine to produce high quality fruit, based upon wisdom passed down over the previous 100 years. It was this expertise, not the financial contribution, that Sami coveted most. He met with Daniel, and although the connection wasn't as immediate as it had been with Dominique, Sami sensed he was in the right place. Naturally suspicious, more of a closed book, Daniel kept his cards close to his chest. But the meeting was focussed, direct and soon over, ending with Daniel asking for 10 days to discuss the potential partnership with his family. Sami left, confident enough to cancel his remaining appointments. A week later he received a call from Daniel confirming their commitment.

Dominique, Daniel & Frederic, Sami & Ramzi.
Initially there was inevitable tension between such strong characters, but some 22 years later this unlikely band of brothers remain united in their commitment to Massaya. It's encouraging to note that their children have also formed strong bonds. They are rightly proud of their achievements to date, building for the future and hopeful that future generations can continue their journey and build on the foundations they've created. Experience would suggest it's unlikely to be an easy ride.