Sami was tasked with visiting each of his father's properties, to assess damage and prioritise repairs. Most were overgrown, with buildings dilapidated and pockmarked from countless shootouts. One property, in Hadath in the Southern suburbs of Beirut, previously a district studded with luxury villas, had found itself on the frontline of battles between Christians and Shiites. Sami pulled up in his Range Rover anxious to see what welcome awaited this time. The main house had taken several direct hits, with the land churned by mortar shell strikes, but Sami's eyes immediately turned to the garden. In stark contrast to the surrounding devastation, immaculate rows of verdant, thriving crops lay before him.
The gardener turned out to be a farmer, who had himself been displaced from his hometown in Mount Lebanon by fighting between Christian and Druze factions. Abou George had found shelter in the relatively unscathed garage of the property where, like Voltaire's Candide, he sought solace from the endless, mindless conflict by immersing himself in working the land. As Sami approached, it felt as if he was entering some kind of Garden of Eden, engulfed by vigorous plants, vines and fruit trees. Abou George emerged from his own work of art, like Rousseau from a jungle, and assumed his tenure was up.
In the absence of a picture of the garden, here's a Rousseau!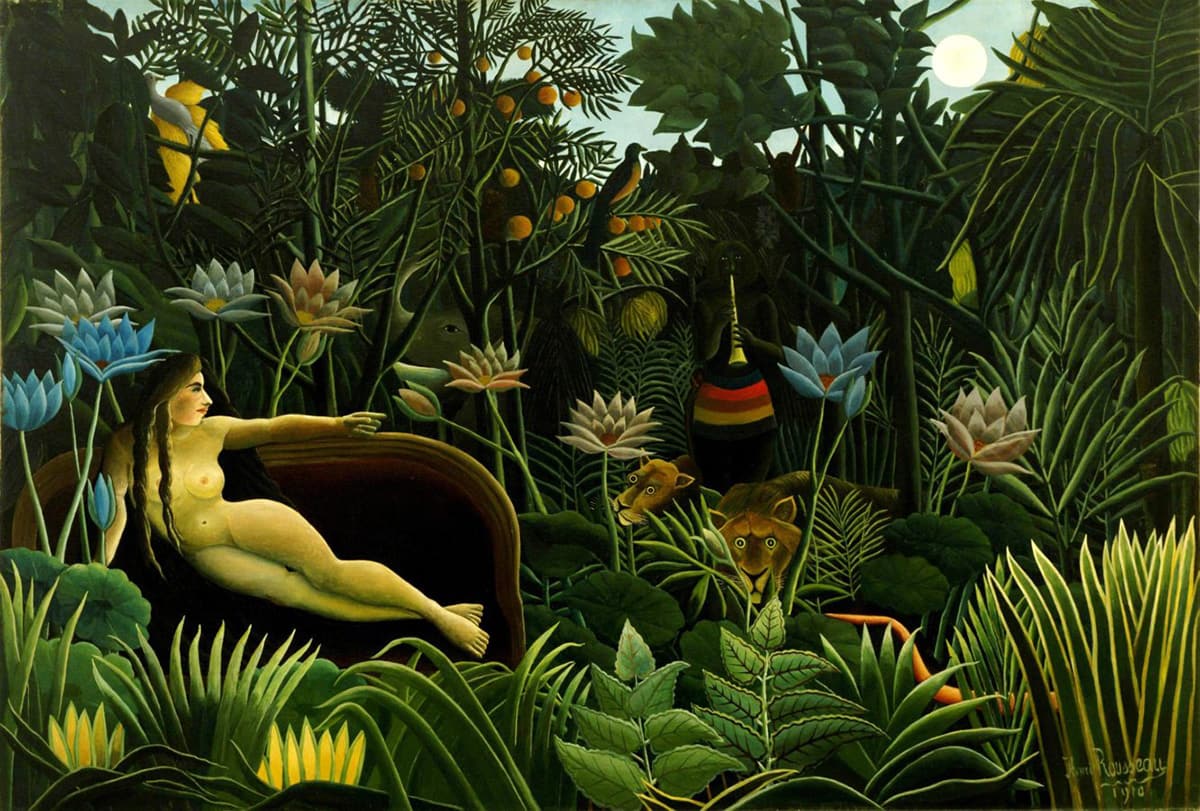 The garden evoked memories of Sami's childhood at Tanaïl whose crops had been nurtured with similar devotion by his father. Sami surveyed the building, but soon returned to continue his discussion with his mysterious tenant. As they talked of their journeys through the troubles to where they now stood, Sami warmed to this wise, spiritual man, struck by his profound connection to the land. Tea was prepared, and the two continued to talk for hours. As the magical blue twilight sky took hold, tea turned to what was Sami's first fateful taste of the Lebanese spirit, Arak.
It would help to tell this tale if there was some grand vision, with a masterplan to follow. There was none. In a land so damaged, with so many physical and mental scars still unhealed, the most primary of instincts still prevailed. Even the most blinkered optimist would struggle to plan for a future in the wake of such a recent past. The only consideration was how the family property could be put to use to sustain the land and provide for Sami and the family. His new gardener friend had a suggestion: Arak.
Like many families in the Levant, Abou George's had their own basic distillation kit that amounted to a simple copper still heated over wood-fire. The best sources of the two essential ingredients required for Arak, Obeïdi grapes and the seeds of the anise plant, were carefully guarded secrets. Like learning to ride a bike in Beirut, distilling Arak was fraught with danger, with the skill reluctantly passed from father to son. Retaining the wrong parts of the distillation could lead to methanol poisoning: as little as 10ml could cause severe damage to the optive nerve (hence the term 'blind drunk'!) ; 30ml could, and often did, prove fatal.
The Ghosn approach to making Arak would be mirrored by future efforts in the winery: no compromise. A Muslim blacksmith from the Tripoli market, renowned for his work in crafting copper domes for Mosques, was commissioned to create a traditional alembic still. A primitive but effective vessel, with little modification to those devised by the Moors, heralded as the pioneers of the alchemy that is alcoholic distillation. Abou George generously shared his former source of the finest Obeïdi, an ancient indigenous grape variety from the Levant. Sami struck a deal for 10 tons of quality old-vine fruit, from elevated slopes on Mount Lebanon. There was no going back now.
Tanaïl would provide the perfect base for the project, with one of the outbuildings used to house the copper still. The base wine was fermented in a rented facility, before the fraught process of distillation began. Sami and Abou Georges sat through the night, stoking embers to achieve the optimum temperature, nervously overseeing the arrival of their first born.
Emerging into the early autumnal air, Sami lay down, exhausted. As the dew of the morning grass soaked into his smoked clothes, he took in the fragrant, mountain air, and sensed for the first time in his life, a profound connection to the soil beneath him. Rooted to the spot. To Lebanon.
The experiment continued with great success. The second distillation went to plan, and then a third, this time with a maceration with the magic ingredient: fresh, green aniseed from the slopes of Mount Hermon, just across the Syrian border, grown in the clouds that would resemble Arak's swirling presence in the glass. The resultant, intensely aromatic spirit was then transferred to clay amphorae to age for 12 months.
Amphorae weren't easy to come by. The potter initially suggested by Abou George had fled to Morocco to make tagines and tangias (after 15 years of heavy shelling, it's easy to understand why an artisan potter might look to transfer his skills to a less perilous place of work!) Further enquiries led them to a moth-balled distillery in the village of Beit Chabeb on Mount Lebanon, closed down by all those years of conflict. His trove of amphorae was just what Sami needed for his initial production. Over a few glasses of 'family reserve' Arak, the price was agreed: One Lebanese gold pound for each amphora- their original cost price back in the 1950s.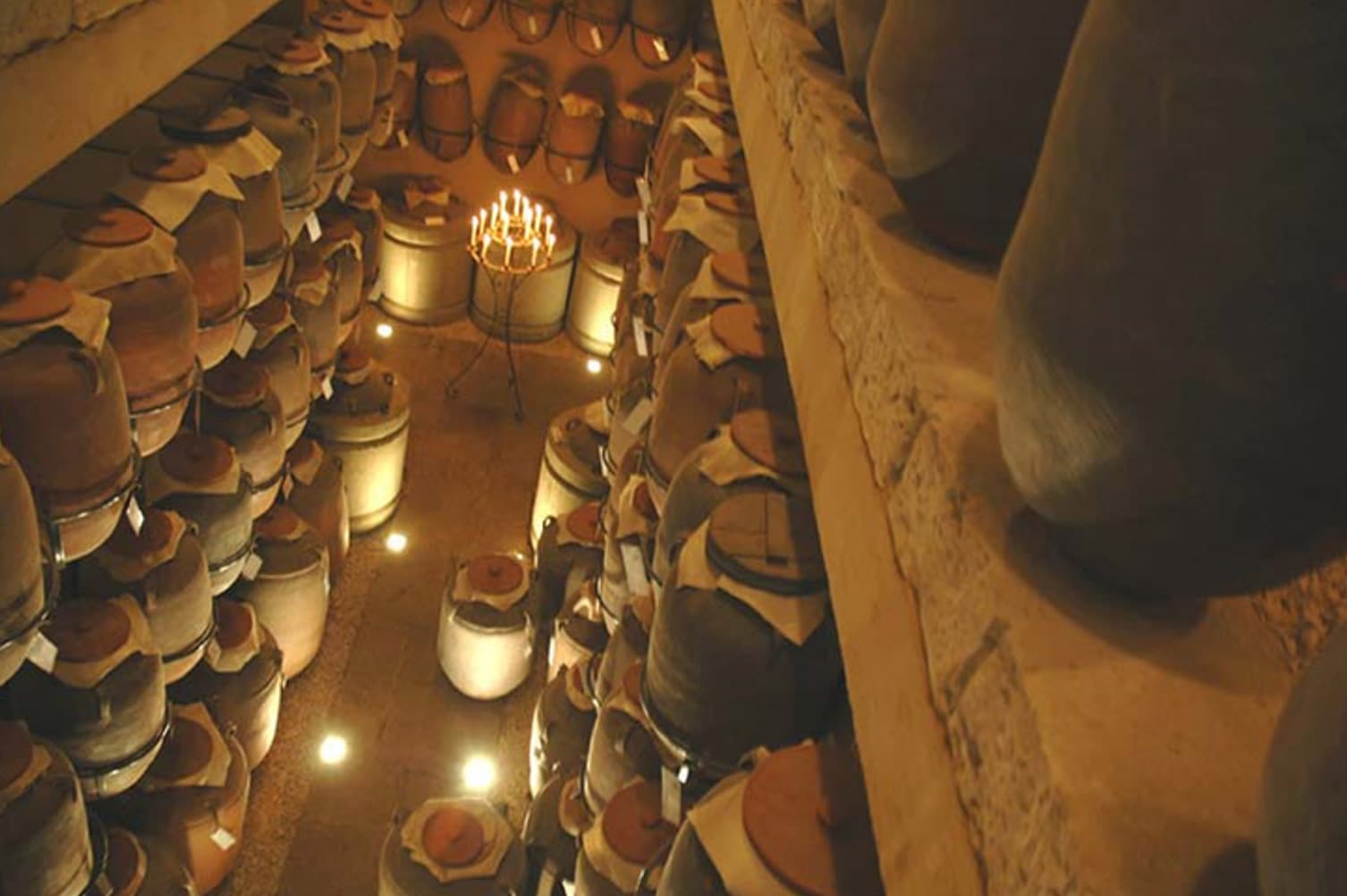 Massaya's current stock of clay amphorae.
The first edition of Massaya Arak was bottled into plain glass jars, and thanks to its 'inimitable' medicinal, organic qualities, sold through the Ghosn family's pharmacies. The response to this trial run was suitably enthusiastic, with ailing customers rushing back for more. Encouraged by this initial response, with high praise from the Araknophiles Abou Georges and his father, Sami sent his spirit for evaluation by a specialist laboratory in France. Sami's younger brother Ramzi was based in Paris at the time and oversaw this analysis. He was suitably excited to share the results with his brother, with the report concluding that the spirit possessed an 'Excellente qualité organoleptique.' It was time to increase production and give this spirit a name.
Still inspired by that first evening in Hadath and the deep blue hue of the sky as the sun sank into the Mediterranean, it had to be 'Massaya'. Lebanese Arabic for twilight.
Many Arak producers looked to cut corners, adding aniseed essence instead of seed and ageing in concrete instead of clay, if at all. Established wineries looking to build their reach in export markets looked to mimic the methods used in Cognac, as well as their grape varieties, to create a more refined spirit of international appeal. Sami wanted quality, but first and foremost, an authentic expression of Arak, using old-vine Obeïdi grapes, distilled in traditional copper stills and aged in clay amphorae. This final element proved the most challenging. After many futile attempts at sourcing new stock, Sami decide to approach the father of the émigré potter from Beit Chabeb. They agreed a fee of $12,000 to cover the return flights of the son from Africa, and the commissioning of a new batch of amphorae, to be fired in a resurrected kiln.
Upgrading from a glass jar to a striking blue bottle was a marketing masterstroke, inspired by the shifting blues of the Mediterranean Sea and sky, setting it apart from the mainstream brands. Much as the sight of a pint of Guinness transports a discerning, wandering Irishman back to Dublin in an instant, the sight of that blue bottle and the misty potion it creates in the glass as it blooms with water, has come to represent a faithful expression of the spirit of Lebanon, an instant trip home for its distant diaspora.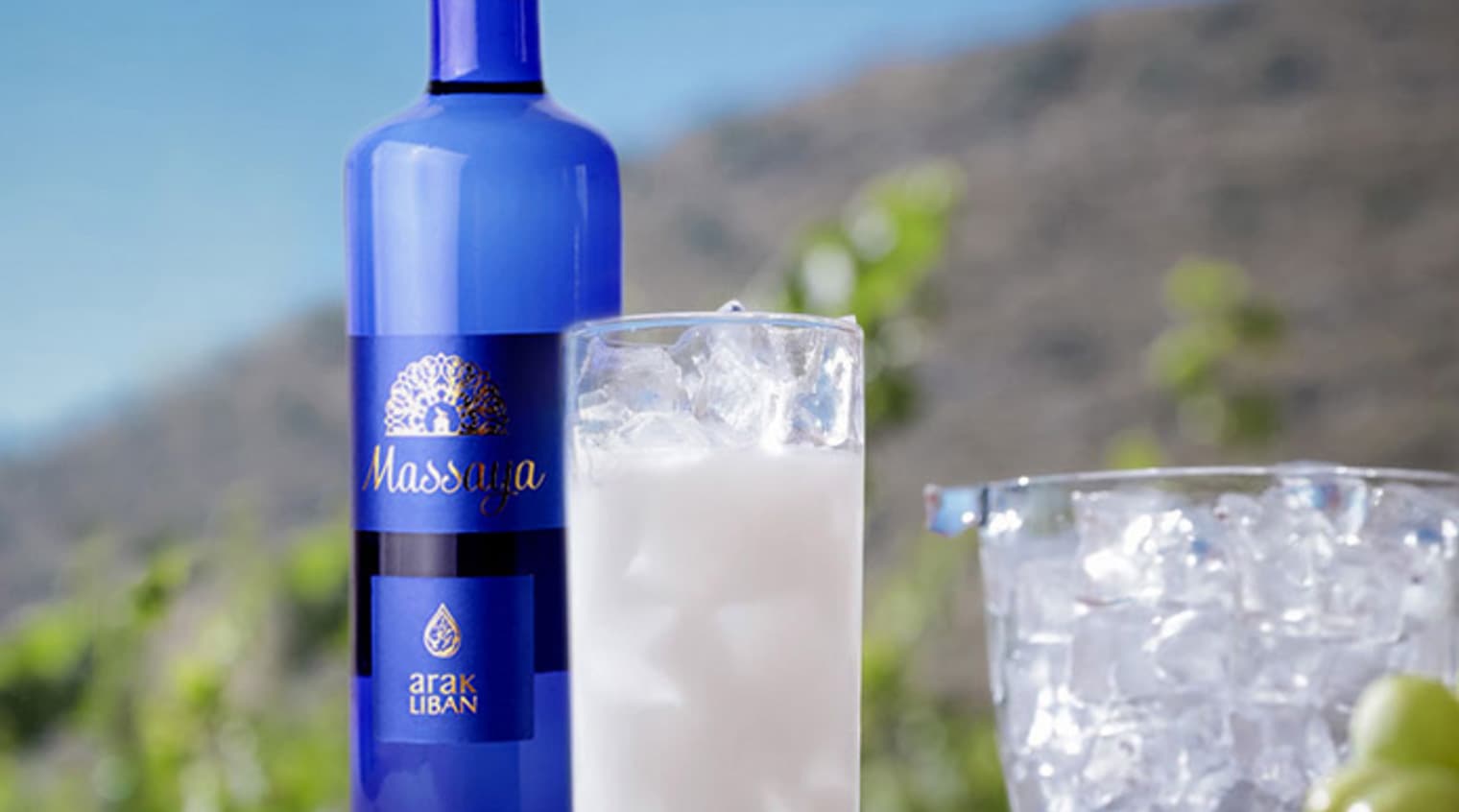 As interest in Massaya Arak burgeoned, confidence began to grow and resources became stretched. By this stage, Ramzi had launched a promising delicatessen concept in Paris, but didn't take much persuading to lure him home to join forces with his brother. A pivotal moment. Ramzi was a thoughtful, focussed young man, with a questing intelligence and a fine palate. His skills would be crucial to the future success of Massaya.
It was at Ramzi's suggestion in 1995, that they invested in planting noble wine varieties and building a winery at Tanaïl. He also encouraged Sami to reach out to potential French winemaking partners for financial and technical backing. They could take better control of the Obeïdi fermentation to improve the base wine for the Arak distillation, but with the investment required, why not look into making red wine as well? Chateau Musar had led the way in creating an international reputation for the wines of Lebanon, but there was surely room for others at the top of the cedar tree? It was with this early ambition that the brothers entered into the world of wine.
The yard they played in as children, learned to fire a gun in as adolescents, had evolved into a place of work.

The vineyard at Tanaïl.